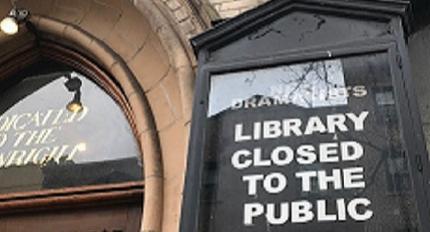 3/13/2020
Dear Friends of New Dramatists:
Out of our continued care and concern for the health and well being of all the artists and theatre lovers in our extended community, New Dramatists is electing to extend our pause of facility operations and programs, through Monday, June 1.
Any and all scheduled projects, readings, and work sessions are cancelled and will be rescheduled when operations resume. We will work remotely and closely, during this time with our resident playwrights, board and staff, to ensure that when it is safe, we'll be well prepared to begin on-site projects once again.
As we continue to receive guidance from various agencies, our status may change. Please continue to check our website for the latest updates.
As staff will be working remotely, we encourage you to visit our CONTACT US page to send an electronic message, or our BOARD, STAFF, & INTERNS page, to obtain individual staff members' email contact information. While email will be the best way to reach us, our phone lines will be open, and we will have access to voicemail. Rest assured, if you email or leave a voice message, someone will get back to you.
Knowledge is Power – we encourage you to stay informed. Check the CDC's website and NYC's Dept. of Health website often, for situation updates.
We thank you for your patience, support, and understanding. Be well and stay safe.
Sincerely,
New Dramatists Staff